Little Wolf Apparel
Our Little Wolf wanderlust themed clothing range & accessories is the perfect addition to your adventures, whether it's a weekend trip, camping & hiking getaway...or just exploring the great outdoors...join our Little Wolf Pack today.
Best Sellers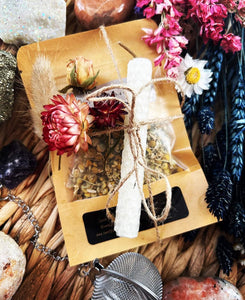 Chamomile Magick
🌼 Chamomile Magick 🌼

A delicious travel size pack of Organic Chamomile Blossom Tea & White Spell Candle beautifully wrapped up with twine & dried flowers.

The perfect gift for anyone wanting to bring a little harmony to their day

This beautiful tea has many, many benefits from helping you get a restful sleep, treats stomach cramps, provides relief from digestive issues, reduces stress & anxiety, rich in antioxidants, helps control blood sugar levels, improves skin health, treats infections, helps ease chicken pox's... can be reused up to 3 times

White Spell Candle… Candle magic is spell work that uses a candle as a way to focus your intention and visualisation to bring about a change in your life.

White Spell Candles in particular are used for…protection, calming the mind, harmony, new beginnings, truth, peace, healing & divination 🕯️

Sit back, clear your mind while sipping your hug in a mug & bring a little bit of healing Magick into your day

100% linen wick. Non-toxic. Do not ingest. Due to the hand rolling process, candle diameter will vary and may not fit all holder types.

Never leave a burning candle unattended. Do not burn for longer than 30 minutes at a time and never allow the candle to burn all the way down to the base.
Chamomile Magick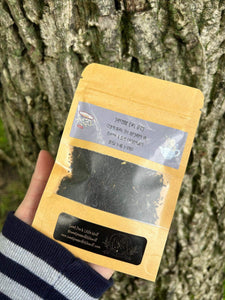 Supreme Earl Grey
🍃 Supreme Earl Grey is a loose-leaf blend of the finest Ceylon black teas. This dreamy cuppa is subtly scented with bergamot essential oil, it's mixed with vibrant blue cornflowers for an aromatic infusion with distinct citrus fruit notes.

Rich and well-rounded in flavour yet beautifully delicate.
It's bright, citrusy and floral qualities invite you to slow down and take a breath, making it the perfect mid-morning or afternoon brew that can be enjoyed with or without milk 🍃
Supreme Earl Grey
Mystical Tarot Card Design Coasters
🍂 𝐀 𝐬𝐞𝐭 𝐨𝐟 𝐟𝐨𝐮𝐫 𝐛𝐞𝐚𝐮𝐭𝐢𝐟𝐮𝐥 𝐜𝐨𝐚𝐬𝐭𝐞𝐫𝐬 𝐢𝐧 𝐦𝐲𝐬𝐭𝐢𝐜𝐚𝐥 𝐭𝐚𝐫𝐨𝐭 𝐜𝐚𝐫𝐝 𝐝𝐞𝐬𝐢𝐠𝐧𝐬 🍂

🍂 Each coaster features a modern illustration of classic tarot cards; The Star (purple), The Sun (teal), The Moon (black) and The Lovers (burgundy).
MDF with a cork backing to prevent slipping and comes in a matching gold tone holder 🍂
Mystical Tarot Card Design Coasters